Increasing Dental Case Acceptance
---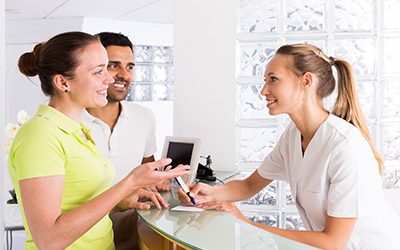 Case acceptance is an important part of the success and profitability of your dental practice. While it isn't always easy to increase case acceptance, the investment will pay off in the end. Practices who excel at case acceptance have found a couple of ways to help you increase your own case acceptance at your dental office!
Increasing Case Acceptance at Your Dental Office
A few key factors should be taken into consideration and adapted to fit your own dental practice. Considering the following tips when trying to increase case acceptance:
Properly Diagnose Patients – Each new dental patient should receive a thorough checkup. This should include a tooth examination, periodontal treatment, dental X-rays, and oral cancer screening. It's important to get a baseline for each of your patients' dental health and then you can make a proper diagnosis once you have all the pertinent information.
Customer Service – An important part of proper case presentation is providing quality customer service to your patients. The better the patient's experience, the greater the chance that he or she will return for treatment.
Give the Patient Your Attention – Dental practices tend to be loud, chaotic, and full of energy. While you may be used to this environment, your patient is likely to feel a little overwhelmed. Make sure you have a quiet consultation area where you can be focused on each patient and his or her questions and concerns about treatment.
Outline Benefits – Patients want to know what the recommended procedure will do for them and how it will enhance their oral health. Clinical details won't likely win over patients but talking about the benefits of treatment and the consequences of ignoring treatment will get through to them effectively.
Any dental office can learn how to master the art of case presentation and acceptance. It takes practice and commitment, but it will be hugely beneficial to your dental office.
While you're working on helping your patients accept treatment, let us worry about your office's insurance credentialing. For more information, please contact Dental Bookkeeping today!