Ways Dentists can Overcome Stress
---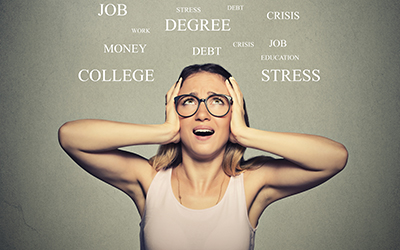 It's common for dentists to use words such as "stressed" and "overwhelmed" when describing their careers. If this sounds like you, know that you're not alone. In fact, most dentists are stressed and of these dentists, around 26% of them report feeling depression symptoms as well. When considering the reasons why dentists are stressed, there are three critical changes that you can make to help manage your daily stress.
Ways for Dentists to Overcome Stress
Below are three great ways for you to reduce your stress and have a happier, more fulfilling career as a dentist:
Know the warning signs – Chronic stress is not the situational stress that you deal with every day at your office. Chronic stress is an internal, physiological, biological, and chemical reaction, which is part of your autonomic nervous system. Chronic stress comes with clear and identifiable symptoms including:

Increase or decrease in appetite
Mood swings
Feeling anxious or tense
Poor sleep or sleeping too much
Forgetfulness or trouble focusing
Addictive behaviors especially with alcohol or drugs
Withdrawal from family and friends
Lack of energy or motivation
Loss of interest in hobbies or things you used to enjoy
Headaches, stomachaches, and other physical manifestations
What you can do – To become aware of your warning signs, you need to understand your level of stress and when it becomes out of control. Use this time to 'assess your stress.'
Stop tolerating – The American Dental Association discovered that around 25% of dentists blame themselves for things that are out of their control. The more you hold in any frustrations about vendors, colleagues, staff, and patients, the more you'll internalize blame for the way things are, whether they're your fault or not. Every day dentists will deal with stresses related to business issues and finance without knowing how to make the practical changes that could help alleviate the stress.
What you can do – To stop tolerating, it's important that you know how the toleration is affecting you and your stress levels. This coincides with another important part of stress management, which is to 'know your stress.'
Accept help when you know you need it – Lastly, there can be a reluctance to seek help in the medical field, including dentistry. People believe that accepting or seeking help is admitting failure, but this is not the case. If you have trouble seeking help, there are a few things you can do on your own to lighten your load. Change patient scheduling or vacation time to make sure you're always fully staffed. This will also increase productivity as well.
What you can do – Once you decide you're ready to 'reduce your stress,' don't feel ashamed to lean on your network of people to lean on, share with, and learn from.
You will find that once your stress has been alleviated, your passion for dentistry and motivation will return. Here at Dental Bookkeeping, we want you to focus more on what you love about dentistry and less about the menial parts of the job. Allow us to take care of your practice's dental bookkeeping needs so you can take better care of patients!